Members
Historical Advisors
Richard Drew Carey (1934-2013)
Caldwell Drew Colvin
Katie Carey
Amy Mealey
Dr. Terry Ward
Judith Barrett Ward
John Colvin
Jamie Colvin
Emily C. Lang
R. Greg Carey
Sherry White
Allyn Drew Barrett
Judge R. Harmon Drew, Jr.
Herman Ratcliff
R. Drew White
Harold Barrett
Sherry Gresham Gritzbaugh
Joe Ratcliff
Overton Cemetery & Cordelia Remer Park
T.D. Carey
Wade Ratcliff
Don Ratcliff

City Marshall
Ted Riser

Legal Staff
Richard H. Drew, III, J.D.
R. D. Carey, J.D.
Julie White Springsteen, J.D.

Pastor
John Cannon

History
The settlement of Overton had its beginnings in about 1818, when Newitt Drew established a sawmill and a gristmill at the confluence of Cooley Creek and Dorcheat Bayou. The original settlers migrated from Wilson County, Tennessee.
For more than a decade, Drew's location was the northern terminus of navigation on the Bayou and a business community grew up around the mill. Eventually, the town developed and became the Parish seat of old Claiborne Parish in 1836. It remained the Parish Seat until 1846.
As late as 1970 the original grist mill stones could still be found at the old mill site. Richard Carey remembers seeing those stones and said they were about 2 1/2 feet in diameter.
Over the next few years commercial traffic and Overton grew. The economic life of Minden centered around commerce on Bayou Dorcheat. Three separate landings on the bayou served the Minden community, and the town served as a shipping point for goods from much of the interior of North Louisiana. Before the War Between the States, warehouses and commercial buildings extended from more than a mile along the East bank of Bayou Dorcheat.
Newett JAMES DREW was born February 26, 1772 in Southampton Co, VA, and died May 26, 1842 in Overton, LA. His grave cannot be found. He married SARAH (SALLY) MAXWELL July 07, 1799 in Wilson/Davidson Co TN, daughter of Colonel THOMAS MAXWELL and REBECCA HAYS. She was born May 23, 1781 in KY, and died May 22, 1860. Records have her being buried in Caddo Parish.
In 1818 Newett Drew's oldest son, James Cloyd Drew along with one of his brothers, left (Lebanon) Wilson County, Tennessee, and traveled to Louisiana. Half way on this trip down the Tennessee and Mississippi Rivers in their 2 small canoes, they gave out of food and ate berries, fish, and wild game to survive. They returned to Tennessee and told their Father Newett about the land in north Louisiana, and shortly afterwards, several families made the trip and settled at Overton. This included the Drew and Bonner families. James Cloyd Drew and the Wilhite family settled in Trenton (West Monroe), Louisiana.
Directions to Overton:
From I-20, take the Minden exit south, and go only 1/10 mile on highway 371 and take a right onto Webster Parish Road 1107(Tom Crichton Road).  GPS for road 1107: 32 degrees 35 minutes 11 seconds N and 93 degrees 17 minutes 46 seconds W.  Proceed 0.6 mile down the gravel road and one can find Overton. 
The Overton Cemetery Road is to the immediate right at: GPS co-ordinates: 32 degrees, 35 minutes, 15 seconds North   and 93 degrees 18 minutes and 11" west.   Altitude 273'.
The Overton Cemetery is about 0.25 miles up the cemetery road.  The path is cleared.
The co-ordinates for the Overton Cemetery Bluff are:
32 degrees  35 minutes  25 seconds north
93 degrees  18 minutes  10 seconds west
Altitude at base of bluff:  252'
Altitude at top   of bluff:   282'
Most of the village north of the cemetery was destroyed by construction crews in 1959 as I-20 was being built.
Some of the older Minden residents, including Herman Ratcliff, recall that the landscape was rolling hills with no excavation markings as late as the mid 1950s (Cemetery). There were excavations and diggings around 1929-30. Harold Barrett grew up in the area on Sibley Road and he says that work did not involve the cemetery.
There were many residents of Overton who were buried in the old cemetery but their graves no longer exist. A replacement fence and gate was put around the cemetery in the early 1930s and still stands today.
The tombstones still located at Overton Cemetery include:
Cordelia Remer            1849-1856
Richard Maxwell Drew   1822-1850
Philander Ingalsby           ?-1838
Lucien Bonner              1853-?
(Dr. Newman was buried at Overton but his tombstone resides now in the Dorcheat Museum). 
Photos & Archives
Overton 2 Gathering, December 12/6/2012 A.D.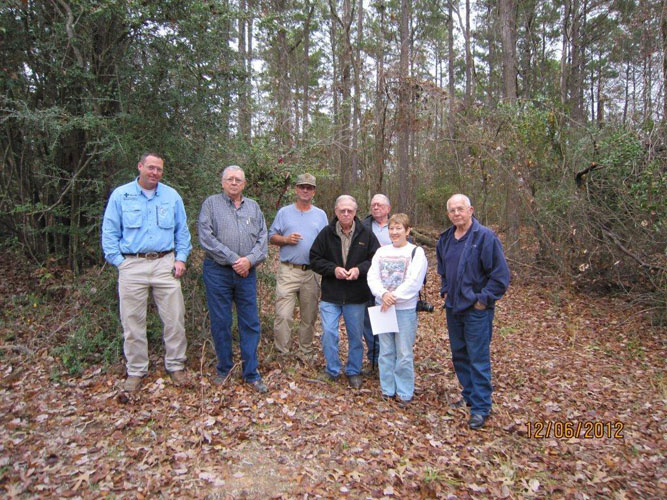 The weather was nice and cool for the Overton 2 Gathering. Those in attendance in the picture, are from Left to Right:
Wade Ratcliff, Don Ratcliff, Sheriff Ted Riser, Joe Ratcliff, Hermann Ratcliff, Ann Mays Harlan, and Eddie McCoy. The group spent over an hour walking to the Overton Cemetery and looking over the site. Of significant importance was the fact, mentioned by Wade Ratcliff, that the creosote posts that are stabilizing the galvanized gate had been treated with the incision method using Penta. Since Penta was first produced by Monsanto in 1936, we now know that at least the posts and probably the gate attached to them were not the same ones mentioned by noted historians in and before 1930. Herman Ratcliff says that when he walked over the site in 1945-50, that there was no fence that he can recall and that he and his friends used to count the tombstones and the # was 8-10 that were vertical and several more that were flat.
Since Harold Barrett recalls a fence being in place in the mid 1930's, it is probable that the original fence in some manner fell into disrepair and disappeared to be replaced a good bit later. Wade Ratcliff feels that the galvanized gate attached to the post and anchored by a steel chain, is one that was used in the 1950's. Perhaps the gate that exists now was placed by the excavation crews that destroyed the cemetery, that is left for further study. Richard Carey mentioned that there are barb wire experts who can generally date such wire. A small piece of the barb wire that surrounds the cemetery will be removed for dating. We will find out if the gate and fence are from the same period of time.
After walking to I-20 from the cemetery bluff, several of the attendees noted how the graves were visible from I-20 in the late 60's and early 70's. One could see them coming from the west as several recalled.
After viewing the cemetery area Sheriff Riser took the group to look at the nesting bald eagles, a regular occurrence for the past 19 years. Thank you Sheriff Ted Riser for being so much help. Please make plans to attend Overton Gathering 3 in December 2013.
Overton Cemetery
As has been recognized in multiple online publications, there are now 4 existing tombstones at Overton Cemetery. Prior to the moving of Dr. Newman's tombstone to the Dorcheat Museum, there were five.
1. Philander Ingalsby: the historical advisor from the county in which Mr. Ingalsby once lived has been contacted. He had no information on Philander. Mr. Ingalsby would appear lost in time until others can pursue the subject. His tombstone is the oldest to be presently found at Overton Cemetery, that being 1838.
2. Dr. H.S. Newman was the area physician. He originated from Warren County, PA. There is a small amount of information on him while he lived in Louisiana. Email discussions have occurred with the county historian about Dr. Newman, but no records were obtained. Dr. Newman died August, 1859. His tombstone was removed by vandals 1999-2000. The grave lies unmarked.
Sarah D., the wife of Dr. H. S. Newman, died July 30, 1827. The inscriptions recording these deaths were all cut upon rude stones native to the soil. Within five years Dr. Newman's daughter died and was buried next to Sarah in Oakland Cemetery, Warren County, PA. Shortly afterwards Dr. Newman and Richard Alden(married Betsey Newman: 1/27/1827) left Warren County to venture to Louisiana. Other Alden relatives were living in Claiborne Parish at that time. Richard Alden stayed only one year and returned to live his life out with his wife and four children, in Warren County.
3. Richard Maxwell Drew lived only 28 years but he lived long enough to have one child, Judge Richard Cleveland Drew. Judge R.C. Drew had several children and some descendants live in north Louisiana in the Minden, Springhill, Shreveport, and Ruston areas. R.M. Drew's wife was Sarah Jessie Cleveland, died Homer, La., May 31, 1875, age 49, and buried at Overton Cemetery. Her grave cannot be found.
4. Lucien Bonner was the child of J.L. and Sarah Reed Bonner. The Bonner family migrated from Tennessee. Lucien was the granddaughter of Jane Hays Drew Scallorn Reed and Jane was the daughter of Newett Drew. Jane was born on 4-14-1806 and died 1-6-1850 in Claiborne Parish, Louisiana. She died from complications of childbirth. She was buried at Overton Cemetery. Her grave has been destroyed. After Mr. Reed died Jane married John Geren, Jr. The child of John Geren, Jr., and Jane Hays Drew Geren was Harmon A. Geren, b. 2-14-1833. There are many Geren family members buried in Old Minden Cemetery.
5. Cordelia Remer. Much has been written about little Cordelia. I will try to add to what has already been written:
George R. Remer, c. 1805-1869, was born in Oneida County, NY.
In 1837 he was in New Orleans, LA where at least one of his children was born. In the 1850 Census for Claiborne Parish, LA he was listed with his wife, mother and children. All children are listed as being born in LA. His mother was Elizabeth Remer (b. Abt. 1784). He was the father of Margaret A. (1837-) married James M. Jones in Bossier Parish, LA on 1/6/1857.; Georgianna (1838-before 1900) married on Sept. 27, 1859 in Bossier Parish to John Andrew Jackson Inabnett (1834-1908), and the child buried at Overton, Cordelia Remer. These Inabnetts were the G-G-Grandparents of Henry, Joe, and Johnny Inabnett, all MHS graduates. Captain George R. Remer died February 12, 1869 while on board the "Mittie Stephens" Steamboat that caught fire and sank in Caddo Lake, TX.
The Alison Krauss Band, Union Station, performs a song dedicated to Captain Remer: Bonita and Bill Butler (in part)
"On the lake at Bistineau, she set the wharf at Dixie
With a thousand bales of cotton on her main
As the great raft disappeared, the watermark went sinking
And she was stuck right hard, a listing on the bank
With the furnace still a blaze, I stood my last upon her
Then climbed the prow and took a landsman's trade"
(courtesy of Sidney Cox)
***********
'Bonita' is the actual the name for one of many packet steamboats that made regular passage from Red River into Lake Bistineau. She served the Port of Overton near Dixie Inn, Louisiana in the early to mid 1800's.
So, it is hoped that the story about Cordelia Remer will inspire others to pursue the task of restoring Overton Cemetery and the remaining tombstones. The R.M. Drew tombstone has been restored. Those of Philander Ingalsby and Cordelia Remer remain in surprisingly good condition considering the time that has elapsed. But, they need restoration. The tombstone of child Lucien Bonner is in terrible shape, having been broken into many pieces from excavations. Just as important is that the cemetery receive public support and recognition. Overton was the 2nd Parish Seat and was so for 10 years. Perhaps at some time the Webster Parish Police Jury or the Louisiana State Historical Society will try to preserve a piece of history. Their input is sorely needed and would be most appreciated. Anyone interested in this pursuit is encouraged to proceed either on their own or with the help of those who have been working on the idea.
Prayer at Overton Cemetery
God of our mothers and fathers:
in this sacred place,
we give thanks for those who have come before us,
we honor them for the community they established,
we recognize that who they were then
has made us who we are today.
For the family of years past
who traveled far to make a home here,
for their perseverance and for their legacy,
we give our gratitude.
For the people of this community,
whose names we remember and bear today
and whose names are known only to you,
we offer thanksgiving.
May we, by honoring them today,
find the inspiration to continue into the future
what they began so long ago.
And may we, in our own places and in our own ways,
give to those who come after us
the gift of family and of community
wherever we may travel,
wherever we may establish a home.
This we pray in the name of God the Father,
God the Son, and God the Holy Spirit.
Amen.

Saturday, December 3, 2011, A.D.
Reverend John Cannon

T.D. Carey
2012 A.D.
This site dedicated to the memory of Richard Drew Carey.
Website and photos ©2012 , All Rights Reserved.
P.O. Box 214, Ruston, LA 71273
Website developed by